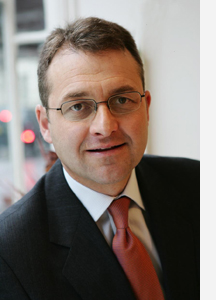 Credo is proud to announce and welcome Deon Gouws as its new Chief Investment Officer.

Deon will take on this role commencing March 2012 in South Africa and will relocate to London in April 2012.

As Chief Investment Officer, Deon will run the firm's investment business as well as its current £1.2 billion portfolio of assets under administration. He will also have responsibility for guiding the strategic direction of the firm's private client investment business and the continued evolution of Credo's investment platform and offerings.

"Deon's broad experience and successful track record make him uniquely qualified to lead our investment practice," said Credo Group CEO Roy Ettlinger. "His in-depth knowledge as an investment manager will be invaluable to the continued growth of our business."

Deon has sixteen years of experience in increasingly responsible roles within the Asset Management arena. In his most recent position he was the CEO of RMB Asset Management where he used to manage 250 staff in South Africa and London with ultimate responsibility for some £15 billion worth of client assets under management. Prior to this he was the Executive Director and Chief Investment Officer of Sanlam Multi Manager International (London).

He began his career at Old Mutual Asset Managers in Cape Town where he later became Head of Research. While at Old Mutual he was the manager of the Old Mutual Investors Fund (the largest unit trust in South Africa with a total value of approximately $500 million at the time) which achieved top quartile performance over the period under Deon's management.

Deon qualified as a South African Chartered Accountant and then obtained a M.Phil in Finance from Cambridge University in 1991. He finished 1st in the final qualifying examination of the Public Accountants' and Auditors' Board in 1988. He has lectured Accountancy and Financial Management at the University of Johannesburg where he was appointed as a full Professor in 1994. He also became a CFA charterholder in 2000.

In addition to his other outstanding achievements, Deon further found time to write a book called "… AND NOTHING BUT THE TRUTH?" about the match-fixing scandal in South African cricket in 2000.

Commenting on his appointment, Deon said: "I am incredibly excited to be joining the team at Credo and I will be doing everything within my power to make a positive and meaningful contribution to the continued success of the business as well as its clients. After spending most of my career on the institutional side of the investment industry, I am further looking forward to getting involved in the wealth management world where one can forge much closer ties with clients."

Deon can be contacted on dgouws@credogroup.com.

Credo is an independently owned wealth management group established in 1998 which provides financial services to private and institutional clients.To learn more about us, please visit our website.